I take the train in to meet clients or work onsite at various agencies and design studios in NYC. I am writing this post because of the massive amount of times I have seen SEVERAL girls wearing the SAME EXACT OUTFIT on the train. They think they are SO stylish but really, they look like they have no style to me. It's easy to just do what everyone else is doing, what the magazines are telling you but to me, there is nothing more annoying in my style the when I see . But these tips will help you get out of your comfort zone and still look stylish. Not in the "dress normal" kind of way though.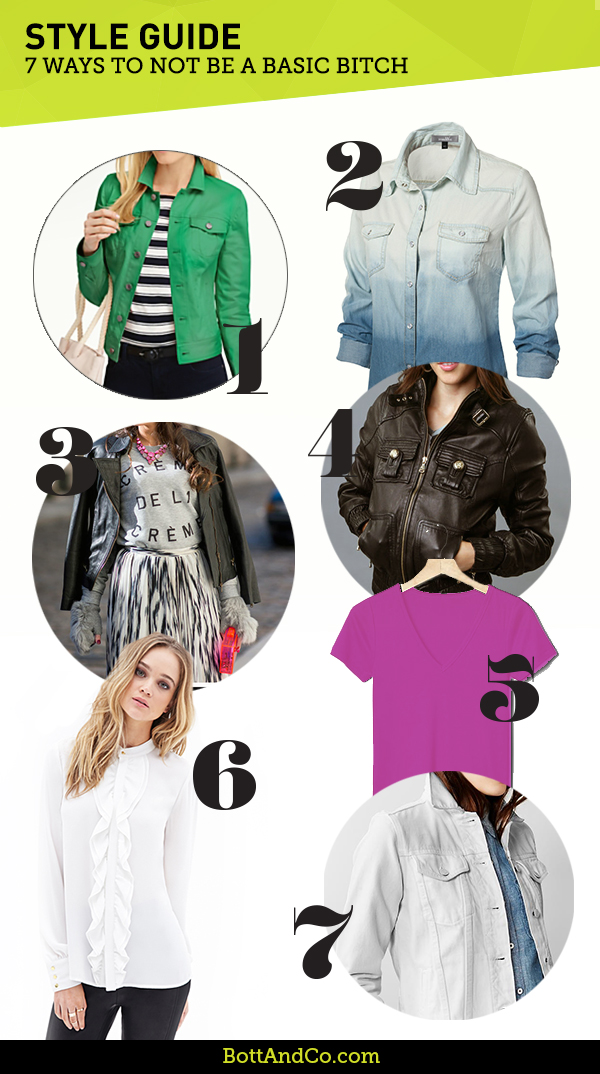 Camel Colored or Army Green Jackets
There are a TON of colors out there for both of these. Don't look like a sheep in these colors. Stand out with some bold color or even just in navy or blue.

Ombre Shirts
Really it's a jean shirt that isn't jean. Our tip is not not wear it with jeans, It reminds me of the Britney & Justin look at the VMAs. Try one with some creative dying techniques to make it more unique.

Prints
Yes, they tell you to wear animal prints as either shoes or bags. But you know there are a ton of other great patterns that don't have to be so cliche. And we aren't talking about Polka dots and stripes or the dreaded plaid that every guy (and lots of girls) wear either!

Black Leather Jacket
K, we know this looks great but a brown bomber jacket is a great alternative to the simple staple that gives it a more signature look

Anything with a label
Coach, Tory, Abercrombie and whomever is hot at the moment is using you as a billboard. Doesn't say much about your style other than you like to be a follower. If you are willing to drop that amount of cash, look for local designers, vintage stores and smaller labels for looks that are visually interesting and more YOU than THEM.

White Shirts
Yes, it looks clean but do you really want to look THAT plain? Go for the same color but with standout details, like ruffles. Creating a more modern take on the classic.

Jean Jacket
A jean jacket shouldn't look like it comes from the 80s. One that has military styling or an interesting color is a way to modernize it
Share: