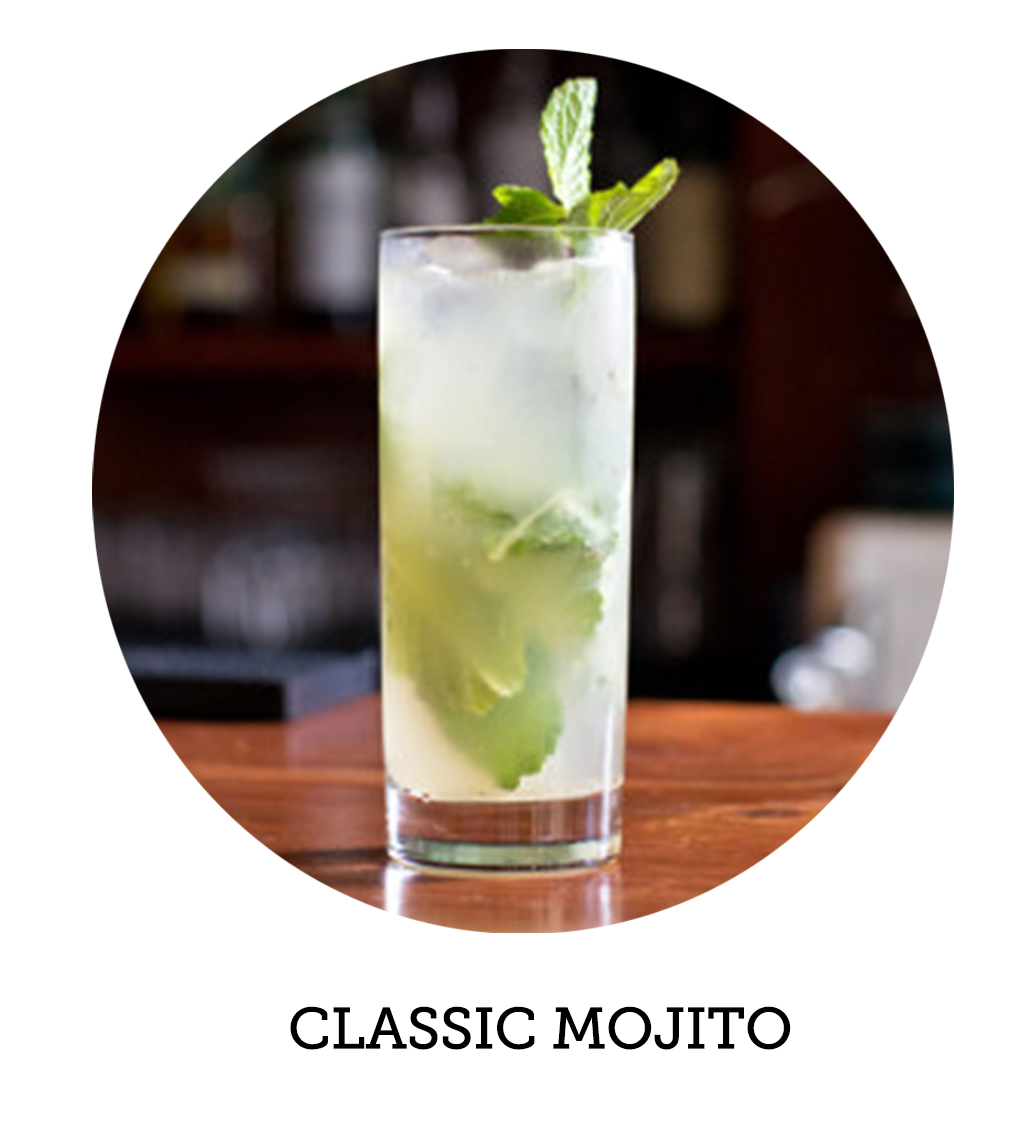 Classic Mojito Ingredients:
6 Mint leaves
.75 oz Simple syrup (one part water, one part sugar)
.75 oz Fresh lime juice
1.5 oz White rum
1.5 oz Club soda
Garnish:Mint sprig
Glass:Highball
Instructions
In a shaker, lightly muddle the mint. Add the simple syrup, lime juice and rum, and fill with ice. Shake well and pour (unstrained) into a highball glass. Top with the club soda and garnish with a mint sprig.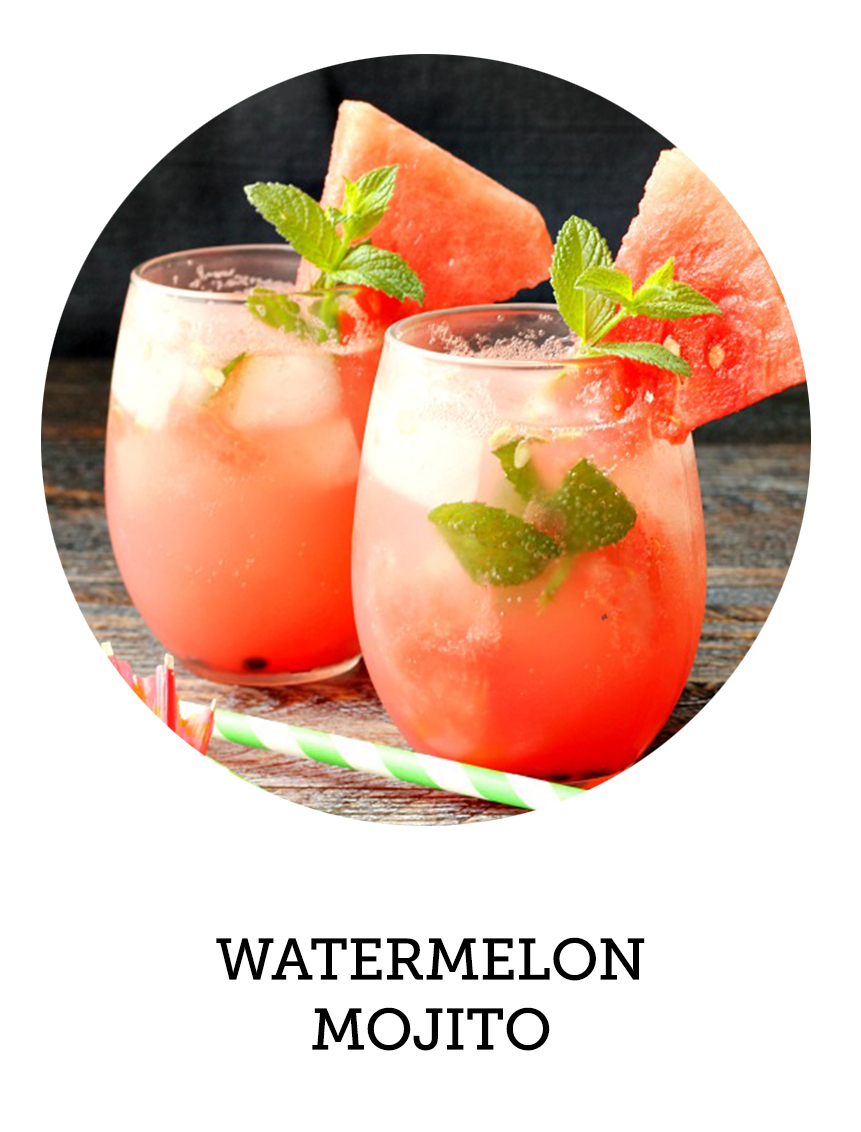 Watermelon Mojito Ingredients:
2 cups watermelon
12 mint leaves
1 cup ice
2 oz rum
1 lime, cut into wedges
Fresca soda (can substitute tonic, club soda, Sprite, 7-up)
watermelon, lime, mint for garnish
Instructions
To a shaker add watermelon, mint ice, and limes wedges and muddle crushing the ice and lime to release flavors.
Add rum and shake.
Fill glasses with ice and pour half full with watermelon mixture. Finish filling glass with Fresca and stir to combine.
Garnish with watermeon wedge, mint stem and or lime wedge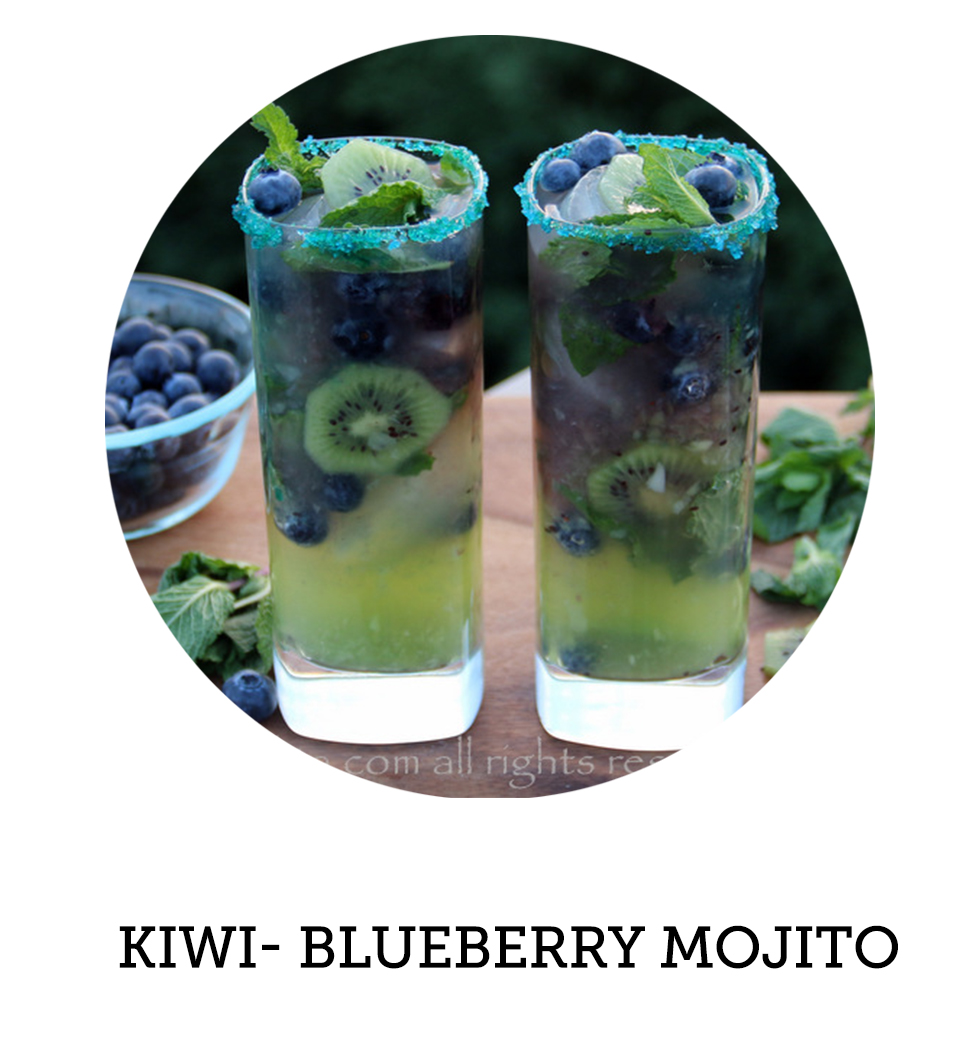 Kiwi Blueberry Mojito Ingredients:
6 kiwis, peeled and cut in half or quartered
4 kiwis, peeled and sliced – to be used as garnishes
6 ounces of blueberries, to be crushed
6 ounce of blueberries, to be kept whole as garnishes
¼ cup fresh lime juice, from 1-2 limes
~ ½ cup sugar, adjust to taste
4 ounce pack of mint, leaves only
1 ½ – 2 cups of sparkling water
1 to 1 ½ cups of rum, adjust based on your preference
Ice as needed
Blue and/or green sugar to decorate glass rims
Instructions
Place the cut kiwis in a small food processor with the sugar and lime juice, pulse until you have coarse puree. Mix the kiwi puree with the rum, you can start by adding the lower amount and then adjust as you prepare the drink.
Gently crush the first 6 ounces of blueberries using a muddler.
You can make the mojitos in pitcher or in individual glasses.
Moisten the rims of the glasses with a slice of lime and garnish the rims with the sugar. If you can't find blue and/or green sugar, you can use blue/green cookie sugar sprinkles.
To make it in a pitcher, pour the kiwi puree into the pitcher, add a layer of ice, add a good amount of mint leaves and kiwi slices. Next add a few more ice cubes, and then add the crushed blueberries, some more mint leaves and whole blueberries. Top off with the sparkling water and mix gently. Taste and add more rum, sparkling water, or sugar if needed.
To make the drink in individual glasses, follow a similar process as for the pitcher, but add a few whole blueberries at the beginning. You can also add a slice of kiwi with the blueberries at the end.
http://laylita.com/recipes/2014/02/01/kiwi-blueberry-mojito-12th-man-cocktail/
Share: