Bet you didn't think of pistachios as an ingredient! We just tend to eat them straight out of the shell. In honor of National Pistachio Day, we decided to share some yummy recipes. Let us know which recipes you tried.
Mixed-Nut Tartlets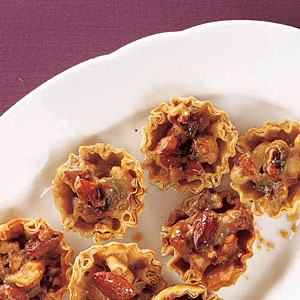 Ingredients
45 mini phyllo shells, thawed
10 tablespoon unsalted butter
1/2 cup packed dark brown sugar
1/2 cup sugar
1/4 cup heavy cream
8 ounces mixed lightly salted roasted nuts, such as pecans, hazelnuts, almonds and pistachios, coarsely chopped
1 teaspoon vanilla extract
Preparation
Preheat oven to 350°F; line a large baking sheet with parchment. Place phyllo shells in a single layer on lined baking sheet. Combine butter, both sugars and heavy cream in a large saucepan. Stir over high heat until blended and beginning to boil. Reduce heat to medium and boil gently, stirring often, for 2 minutes. Remove from heat and carefully stir in nuts and vanilla. Work carefully; mixture is extremely hot and will bubble up. Let cool slightly. Divide filling among tart shells, using about 1 heaping tsp. in each (do not overfill). Bake until shells have crisped and are light golden, 10 to 15 minutes. Let cool before serving.
---
Chicken Salad with Grains & Pistachios
Ingredients
Chicken
Grains (Farro, rice, or barley)
Fresh herbs
Shallot
Toasted Pistachios
Preparation
Toss shredded chicken with cooked grains, chopped fresh tender herbs, finely chopped shallot, chopped toasted pistachios, and then you can add your favorite vinaigrette.
---
Pumpkin Pistachio Cranberry Sweet Rolls
Ingredients
SERVINGS: 12
for the dough
3 1/2 cups flour divided
2 tsp dry active yeast
2 tsp cinnamon
1 can pumpkin puree (15oz)
1/2 cup almond milk
3 tbsp coconut oil
1/4 cup coconut sugar
1 tsp pure vanilla extract
For the filling
1 tbsp coconut oil- room temp
2 tbsp maple syrup
1/3 cup coconut sugar
1 cup fresh cranberries
1/3 cup shelled pistachios – roughly chopped
For the icing
2 tbsp vegan cream cheese
1/2 cup powdered sugar
1 tbsp almond milk
pinch salt
1 tsp cinnamon
2 tbsp pistachios ~ roughly chopped
Preparation
in a mixing bowl combine 2 cups flour, yeast & cinnamon – set aside
in a small sauce pot, gently heat pumpkin through vanilla to 120*
with a wooden spoon, stir pumpkin mixture into the flour mixture until a wet dough forms
turn dough onto a well floured surface and knead in reaming 1 1/2 cups of flour a 1/2 cup at a time. you may need more flour for dusting, dust surface with flour to prevent dough from sticking. knead until a soft, elastic dough ball forms – 7-8 minutes.
place dough in a well bowl (i used canola oil)- cover with a moist towel or plastic wrap and allow to rise until double in size – about 1 hour.
while the dough rises, combine coconut oil, maple syrup and coconut sugar in a small bowl- mixing well – set aside.
punch dough down and allow to rest 10 minutes.
turn dough onto a well floured surface and roll out to a 13 x 10 rectangle . with a spoon or off set spatula spread filling mixture evenly over the dough rectangle, leaving about a 1/4″ border around the rectangle. evenly sprinkle cranberries and pistachios over the rectangle.
starting at the longest side of the rectangle tightly roll the dough into a cylinder.
cut dough log into 12 even pieces – place in a 13x 9 baking dish or pie plate greased with coconut oil.
cover and allow to rise for 30 minutes.
bake in a 350* pre heated oven for 25 – 30 minutes.
remove from oven and allow to cool in the pan on a wire rack.
will sweet rolls are cooling prepare the glaze.
In a medium bowl whisk all ingredients except pistachios together and drizzle glaze over rolls.
sprinkle with chopped pistachios.
Source: SundayMorningBananaPancakes
Share: