Turkey Cheddar Burgers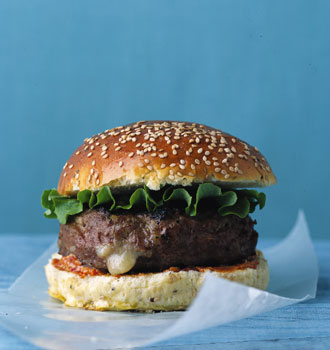 For burgers
1 large shallot, finely chopped (1/4 cup)
2 tablespoons olive oil
1/2 teaspoon salt
1/4 teaspoon black pepper
1 1/2 pounds ground turkey (not labeled "all breast meat")
5 ounces extra-sharp Cheddar, cut into 4 (1/2-inch-thick) slices
4 hamburger or kaiser rolls
For sun-dried tomato mayonnaise
1/4 cup oil-packed sun-dried tomatoes, drained
1 tablespoon water
2 teaspoons cider vinegar
1/4 teaspoon salt
1/4 cup mayonnaise
Accompaniment: lettuce leaves
Instructions
Put oven rack in middle position and preheat oven to 350°F.
Cook shallot in oil with salt and pepper in an 8-inch skillet over moderate heat, stirring occasionally, until golden, 2 to 3 minutes, then transfer to a bowl. Add turkey and mix gently but thoroughly.
Turn out turkey mixture onto a sheet of wax paper and divide into 8 equal mounds. Pat 1 mound into a 4-inch patty and top with 1 piece of cheese, then put a second mound on top, patting it onto other patty to enclose cheese. Pinch edges together to seal and shape into a single patty. Make 3 more burgers in same manner.
Heat an oiled well-seasoned ridged grill pan over moderately high heat until hot but not smoking, then grill burgers, turning over once, until just cooked through (no longer pink), 8 to 9 minutes total.
While burgers are cooking, heat rolls on a baking sheet in oven until crusty, about 5 minutes. Transfer rolls to a rack to cool slightly.
Make mayonnaise and assemble burgers:
Purée tomatoes with water, vinegar, and salt in a blender or mini food processor, scraping down sides as necessary, then blend in mayonnaise.
Cut rolls in half horizontally (if necessary) and spread cut sides with tomato mayonnaise. Serve burgers on rolls with lettuce.
---
Three Cheese Burger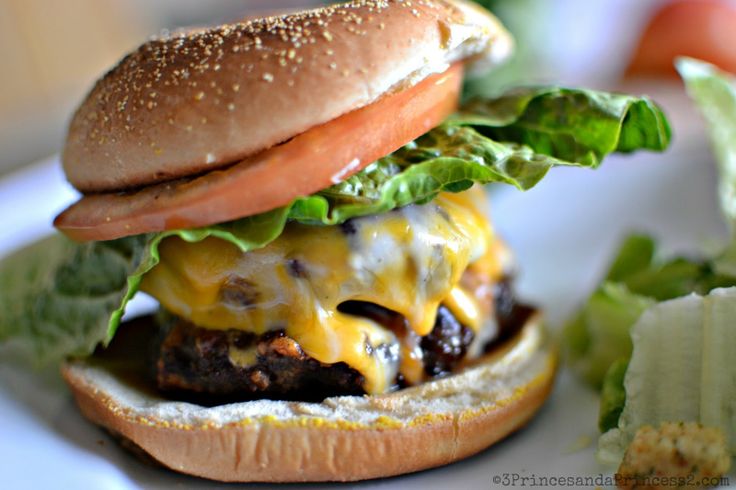 For burgers
1 package Kraft Fresh Take Southwest Three Cheese variety
1 can (about 4 ounces) chopped green chilies
2 teaspoons ground cumin
1 teaspoon garlic powder
2 pounds 90% lean ground beef
8 slices Kraft Colby and Monterey Jack blend cheese.
8 hamburger buns, split, toasted
Lettuce
Tomato
Condiment(s) of choice
Instructions
In a large bowl, combine beef, Kraft Fresh Take Breadcrumb Mixture, chilies, and seasonings; mix well.  Shape into six thin patties. Sprinkle Kraft Fresh Take Three Cheese over three patties; top with remaining patties and press edges firmly to seal. Grill, covered, over medium heat for 6 minutes on each side or until juices run clear; top with Kraft Colby and Monterey Jack slices; let melt. Serve on toasted buns with lettuce and tomato if desired.
---
Shake Shack Cheesburger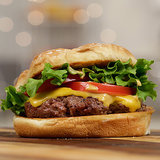 For the shack sauce:
1/2 cup mayonnaise
1 tablespoon ketchup
1 tablespoon yellow mustard
4 slices kosher dill pickles
1/4 teaspoon garlic powder
1/4 teaspoon paprika
Pinch cayenne pepper
For burgers:
8 ounces ground beef sirloin
4 ounces ground beef chuck
4 ounces ground beef brisket
2 tablespoons butter, at room temperature
4 potato burger buns, such as Martin's Sandwich Rolls
4 tablespoons shack sauce
4 leaves of green-leaf lettuce
8 slices ripe plum tomatoes
1/2 teaspoon vegetable oil
Kosher salt
Black pepper, freshly ground
4 slices yellow American cheese
Instructions
Combine mayonnaise, ketchup, mustard, pickles, garlic powder, paprika, and cayenne in a food processor and process until smooth. Transfer to a squeeze bottle. (It makes about 3/4 cup sauce.)
Gently mix together the sirloin, chuck, and brisket in a mixing bowl until just combined. Form into 4 patties, each about 2 inches tall and 2 1/2 inches wide. Refrigerate until ready to cook.
Split open buns and spread with a thin coating of butter, then toast in a skillet until brown, about 1 minute. Using a squirt bottle, drizzle about 1 tablespoon shake sauce on the top half of each bun. Place 1 lettuce leaf and 2 slices of tomato on top half of each bun.
Add oil to a large, heavy-bottomed skillet, then heat over medium-high heat until just beginning to smoke. Generously season beef patties on top side with salt and pepper, then transfer, seasoned side down, to the hot skillet. Use a heavy, flat spatula to press down and lightly flatten the beef patties. Season top-facing side with salt and pepper. Cook until a crisp brown crust has formed, about 2 minutes.
Carefully loosen any crusty parts of the burger patties from the skillet, and flip over. Top each patty with 1 slice of American cheese and cook until the cheese has melted, about 1 minute longer. Transfer patties to burger bun bottoms, top with the the top bun (including tomatoes and lettuce), and serve hot.
---
Cheeseburger Sliders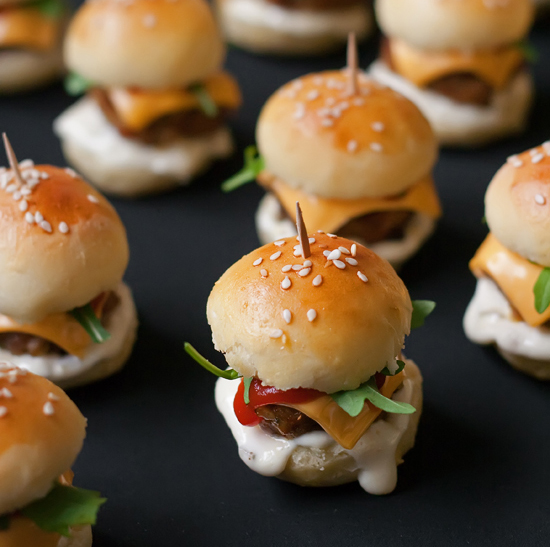 For slider buns
200 ml milk
100 ml water
60 g butter
about 500 g plain flour
1 sachet of dry yeast (7 g)
2 Tbsp sugar
1 1/2 tsp salt
2 eggs
sesame for the top
Instructions
Heat milk, water and butter in a small pot, just enough so the butter melts, but still, don't let it be too hot. We don't wan't to kill the yeast :wink:. Mix 100 g flour, yeast, salt, sugar, 1 egg and the heated butter and milk mixture. Gradually start adding the remaining flour until you get smooth, soft dough. Leave it covered until it doubles in volume and when it does, start forming, a walnut sized balls. Well, actually, a slightly smaller balls than the walnuts Place the balls on two large oven pans lined with baking paper. Brush their tops with slightly beaten egg and sprinkle with sesame. Let it rise for another 30 minutes and then bake for about 10-15 minutes in a preheated oven on 390°F/200°C.
For Burgers
700 g mixed gound meat (that is 1:1 ratio of beef and pork)
1 large onion, grated
2 tsp Vegeta seasoning
1 tsp ground black pepper
2 tsp hot pepper flakes
1 tsp ground ginger
1 tsp turmeric powder
1 tsp dried parsley leaves
1 egg
2 tsp baking soda
4 cloves garlic, pressed
50 g bread crumbs
Take all of the ingredients from the list and mix well. Shape into miniature burgers that are about 3,5 cm in diameter. Fry them on a little oil, on both sides. While you shape them, be aware that they'll shrink while frying, and on the other hand, the buns will expand in the oven. It took me some time, but now mine buns and burgers fit perfectly together.
---
Maria Menounos' Mykonos Burger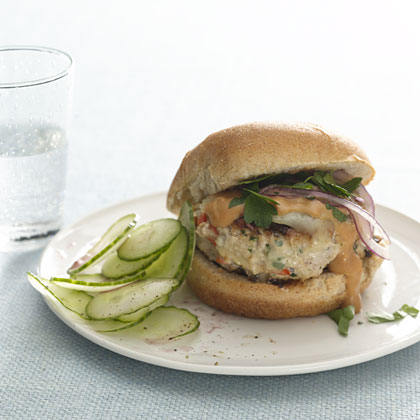 1/3 cup chopped fresh parsley
1 pound lean ground turkey
3/4 teaspoon freshly ground black pepper
1/2 teaspoon salt
1 tablespoon Worcestershire sauce
1 tablespoon Dijon mustard
1/2 teaspoon garlic powder
1 3/4 ounces crumbled feta cheese
4 (1/4-inch thick) slices red onion
4 whole-wheat hamburger buns, toasted
Ingredients
In a medium bowl, mix first 8 ingredients (through feta). Use an ice cream scoop or 1/2-cup measure to make equal-size patties.
Broil for 5–6 minutes on each side or until done.
Place burger on bottom half of bun. Top with onion slices and a Dijon-and-ketchup mixture (a trick for cutting sugar from your diet), if desired; garnish with parsley, if desired. Cover with top half of bun.
---
Black Bean Veggie Burger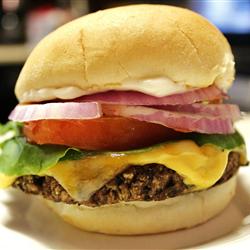 Original recipe makes 4 patties
1 (16 ounce) can black beans, drained and rinsed
1/2 green bell pepper, cut into 2 inch pieces
1/2 onion, cut into wedges
3 cloves garlic, peeled
1 egg
1 tablespoon chili powder
1 tablespoon cumin
1 teaspoon Thai chili sauce or hot sauce
1/2 cup bread crumbs
If grilling, preheat an outdoor grill for high heat, and lightly oil a sheet of aluminum foil. If baking, preheat oven to 375 degrees F (190 degrees C), and lightly oil a baking sheet.
In a medium bowl, mash black beans with a fork until thick and pasty.
In a food processor, finely chop bell pepper, onion, and garlic. Then stir into mashed beans.
In a small bowl, stir together egg, chili powder, cumin, and chili sauce.
Stir the egg mixture into the mashed beans. Mix in bread crumbs until the mixture is sticky and holds together. Divide mixture into four patties.
If grilling, place patties on foil, and grill about 8 minutes on each side. If baking, place patties on baking sheet, and bake about 10 minutes on each side.
---
Avocado Swiss Cheeseburger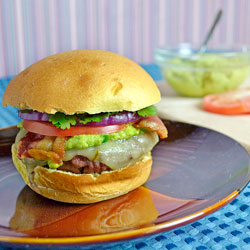 1 wedge The Laughing Cow Light Creamy Swiss cheese
1 oz. (about 2 tbsp.) mashed avocado
1 tsp. fat-free mayonnaise
1/8 tsp. garlic powder
1/8 tsp. onion powder
1 slice center-cut bacon or turkey bacon
1 Boca Original Vegan Veggie/Meatless Burger (orHG Alternative)
1 light hamburger bun with about 80 calories (or HG Alternative)
1 slice tomato
2 tbsp. shredded lettuce
In a small bowl, stir cheese wedge until smooth. Add avocado, mayo, garlic powder, and onion powder. Stir until uniform.
Cook bacon until crispy, either in a skillet over medium heat or on a microwave-safe plate in the microwave. (See package for cook time.) Break bacon in half.
Bring a skillet sprayed with nonstick spray to medium heat. Cook burger patty for about 4 minutes per side, until cooked through.
Split bun into halves, and place patty on the bottom half. Top with cheese-avocado mixture, bacon halves, tomato, and lettuce. Add the top of the bun, and dig in!
Share: