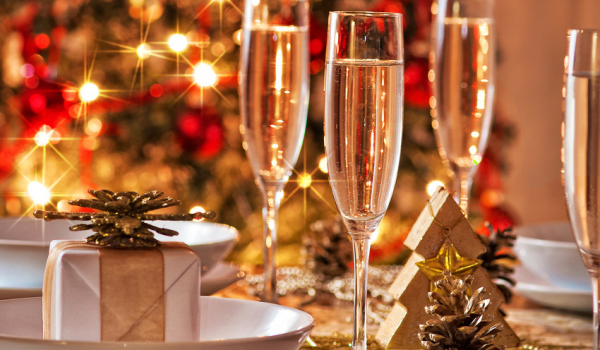 What's a party without people?! Notify your guests of the event with eye catching invitations and they will have no excuse but to come. Obviously, last-minute parties don't allow time for snail-mail invitations. However, there's no need to sacrifice sending a little something special, even if it's a Facebook event.
We provide all aspects of event design, including invitations and Ecards, in classic holiday designs you can send to everyone on your guest list. Take a look at the holiday cards we've done!

    Decorate!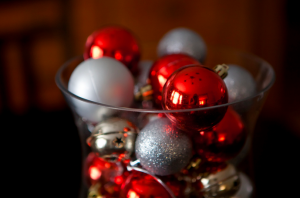 Next, it's time to dress up your home a bit. With our help, you can decorate for this party without even breaking a sweat. You can fill a glass jar with ornaments and string lights around the place for a peaceful look and you're done — easiest holiday decoration ever!
Visit dollar stores. All kinds of fun decorations can be found at dollar stores. I've stumbled across many decorations that are almost exactly the same as the ones sold at party stores, but they sell for much, much less.
Get crafty. Homemade decorations are not only affordable, but they also add a personal touch to your party that will have your guests admiring your creativity. To find the best do-it-yourself decoration ideas, I search Pinterest. You can spend hours searching its endless variety of inventive party ideas. Luckily we've done the hard work for you! For event inspiration take a look at our event Pinterest 

   Prepping your Place
Holidays are all about warmth, you want to make sure your guests feel comfortable. Arrange your furniture in a way that allows for the most open space in the room. Also, make sure you have enough seats for guests who want to lounge back for bit.
Set the table with colors decor and favors.
Check to see you have the essentials toiletries for your guests. Stock the bathroom with soap, hand towels, and toilet paper.
Be sure to remember to defrost any frozen items to be prepared for the party, chill beverages and set them out on tray to welcome guests!

   Food & Drinks
Everyone looks forward to holiday parties for the food and booze, or maybe thats just us! However you don't have to stress yourself out. Here are some yummy suggestions!
Encourage your guests to bring a dish or beverage. Most guests ask if they can bring something, so let them! You could even assign each guest a specific item on your shopping list — like cookies, appetizers, chopped veggies or drinks.
Shop at big-box stores. Your local supermarket may be more convenient, but it will cost you a lot more money for your party needs. I like to shop at big-box stores where I can buy larger quantities at a discount.
Now for the drinks, there are a few rules to follow when it comes to setting up a bar:
Bar rules: Plan on 2-4 drinks per guest at an average party. Typically estimate one drink per person for every hour of the party. For a twenty person party with a full bar (wine, beer, liquor), you need about two cases of beer and one bottle each of gin, rum, tequila, vodka, and whiskey.
Be sure to preheat those ovens, set out appetizers and refresh all food and beverages from time to time.

   Entertainment
It's not a party without some tunes. For music, you can just use one of our playlists, if you don't have a designated DJ for the night. Please don't torture your guest with endless holiday songs.
Organize silly fun and games. Here's an idea: Ask guests to bring a holiday photo of themselves from their younger days. This will get your guests laughing and interacting with each other as they share their photos. Party games for grown ups can also be a lot of fun for absolutely no added cost! Ideas from party planners at PurpleTrail.com include coming up with dance moves and playing truth or dare.
No matter how limited your budget is, there's no need to give up on your holiday party plans. A little can go a long way toward making an unforgettable party!
Setting a theme for your holiday gathering is also fun, like a ugly sweater party! Everyone will love coming up with truly awful sweaters and seeing what their friends come up with as well. Serve punch and cookies and host a contest to see who has the ugliest sweater.
For a unique idea, have a earlier holiday party and create your own Santa's workshop. Invite a few friends over to decorate cookies! Your guests will love it.

   Goodies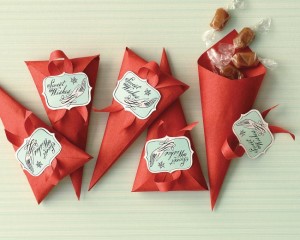 Who doesn't love some goodies!
A quick and simple goodie for your holiday party are festive favor cones. Just use some clip art and some card stock to create these simple cones and tags, and fill them with store-bought candy.

   Say Thank You!
Send a thank you card to your guests after an event to thank them for sharing their time with you. If you can't find the words, send a quote or a line from a movie that captures the way you feel. Your guests will be touched by your thoughtfulness.
ADDITIONAL RESEARCH:
Inexpensive Ideas for holiday party food
http://www.tastycatering.com/9-unique-company-holiday-party-themes/

SOURCES:
http://cupcakesandcashmere.com/decor/christmas-cookie-party#feed=/search?keyword=partytheme
http://www.realsimple.com/food-recipes/cooking-tips-techniques/recipe-upgrades/party-food-ideas
http://www.flagshipsd.com/flagship-cruises-blog/charters/company-holiday-party-ideas-on-a-budget
http://www.huffingtonpost.com/women-co/holiday-party_b_2272892.html
IMAGE SOURCE:
http://www.punchbowl.com/gridfs/fs/4e81f3028b28d91a9800000d-1317139203
https://www.flickr.com/photos/amiefedora/6535309499
http://www.marthastewart.com/271592/gingerbread-caramel-cones
Share: