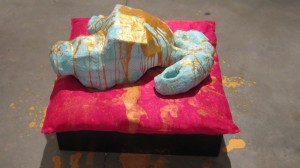 Maria Liebana joins Avenues this fall as an art teacher in Lower School Spanish immersion classes. (In the immersion classes, nursery through grade three, children spend half of their days in a class conducted in English and half in a class conducted in either Spanish or Mandarin Chinese.) She comes to Avenues from Madison Avenue Presbyterian Church Day School (New York, NY), where has been an assistant art teacher in a classroom of three- and four-year-olds for the last eight years, responsible for planning rich art exploration activities and managing the children.
Maria has also been an art specialist at the creative arts and athletics summer program at the Convent of the Sacred Heart School, (New York, NY) and an assistant teacher for the pre-kindergarten class at Beyond Basic Learning (Hoboken, NY). She also co-taught a group of 15 three- and four-year-olds for three years at St. Hilda's and St. Hugh's School (New York, NY) and conducted after-school art classes for two summers there, teaching puppet making and supervising arts and crafts program.
Maria has also designed and taught art courses at various summer programs, including the Creative Arts and Athletics Summer Program, Convent of the Sacred Heart School (New York, NY), Dalton Summer Camp (New York, NY) and Camp Yawgoog, Boy Scouts of America (Rockville, RI).
Maria received a B.F.A. in art and design education from the Pratt Institute (Brooklyn, NY) and an M.F.A. in studio art from Maine College of Art (Portland, ME). She also attended Fordham University's Graduate School of Education (New York, NY). She is currently on the Materials Conference Committee for the Reggio Emilia One Hundred Languages of Children Exhibition, which will take place in 2015.
Maria is fluent in both English and Spanish. For eight years, she studied and performed Middle Eastern dance. She is a practicing artist and has a studio in Long Island City. She has attended artist residencies such as the Vermont Studio Center and exhibited in several shows. Her work may be seen at http://www.marialiebana.com/.
Outside of work, Maria likes to visit art museums, attend art openings and visit art galleries. "I like to hang out with fellow artists in their studios and have them visit mine," she says. "I am an all-out art nerd." She also enjoys seeing dance performances, watching films of famous fashion designers, window shopping, and reading a variety of books at the same time. She also likes to spend time with her husband, family and friends.
Q&A:

What sparked your interest in art?
Since I was a child I always found myself making something, whether it was sewing dresses for my Barbies, making props for my dolls, doodling or coloring in coloring books. I remember admiring the drawings of my father and paternal uncle, "Tio Pipo" who was a carpenter and artist. I used to steal the wood scraps from his workshop in the garage to create all kinds of things. As a gift for my sixteenth birthday my parents sent me to Vienna, Austria to spend an entire summer with my aunt, my father's sister and uncle. That was a defining experience for me. The Kunst Haus, the museums, the street art on the subway platforms, the public sculptures and the Bjork concert posters all led to my decision to study art. Once back from my trip I began researching art schools. I ended up at Pratt Institute. While making art was always in me, attending Pratt changed my experience of the world as an artist.


What inspired you to become a teacher?
I have been working with children since my teens. During my Catholic school days I taught Sunday school and worked at summer camps. It is as if I fell into it. That's what I've always done. It's part of who I am and it's very familiar.

The one kiss, un beso, un bisous project installation will consist of 1,000 kissed mirrored compacts from people all around the world, how did you come up with this idea?
One Kiss Un Beso, un bisous project came about when I was in Graduate school pursuing my MFA. At the time, I wanted to create something that engaged the audience. It's combination of my obsession with beauty, lipstick and an intimate kiss and what each of them means. What does a kiss mean? I chose an absurd amount of "kisses" as a goal. Currently the project is on a hiatus. So far I have collected over 100 kissed compacts from Vienna, Austria, London, England, New York, Vermont and Maine. My goal is to collect kisses from around the world and put them on display

How do you manage time between your career as a teacher and as a an artist?
Trying to manage a steady studio time and teaching is not easy task. I do it anyway. I look at my schedule for the week and pencil in my studio time. I will chose going to the studio over going to parties or social gatherings. I have to be careful and not become a hermit in the studio. The structure of the MFA program I chose had flexibility that allowed me to work. I chose the low residency program at Maine College of Art because it allowed me to spend my summers in Portland and the fall and spring in New York City. Because I was a teacher I had summers off. This particular MFA program forced me to balance studio, work and classes. It was not easy but the practice of balancing all three things has become ingrained in my habits. My studio time is just as important as going to work and teaching. Without my studio time I feel lost and extremely moody.

What's the best part about working with your students?
The best part of working with students is when I find them "in the zone" working on their projects. I like and encourage them to discuss and passionately "argue" about their ideas while working. The beauty of working with children is that think outside the box. Children and their art always manage to blow me away.

What inspires you when creating your art?
FASHION, Drag Queens, Pinterest, kitsch objects, high-end window displays, fashion shows on Youtube, window shopping, Interview magazine, New York City, accessories, a conversation with friends, literature, Asian films, documentaries about Artists and fashion designers, the list is endless.

What was your most pivotal moment of your career so far?
The pivotal moment in my CAREER as an artist was receiving the keys to my studio, my workspace.

Why do you think it is important to teach art to young?
Art is not only the act of making something but it also involves problem solving, exploration, discovery and inquiry skills. It is communication. Art is not limited to just the traditional ways of making it but it is the possibilities, the failures, the successes. Process is extremely important.

How has becoming an art teacher changed the way you pursue your art?
Teaching and being an artist go hand in hand. My students have taught me to be fearless and play. This is not always easy to do, easier said than done. I research, explore, experiment, destroy and make in the study, a lot like they do in the classroom.
Other artists that have influenced you and why?
I have many. These are the artist that quickly came to mind and make my stomach turn in a good way. I have a physical reaction to artworks that have an effect on me. These artists work in three dimensional forms and use non conventional and traditional materials and their studio processes Franz West, Virginia Poundstone, Nicole Cherubini, Hannah Wilke, Beverly Semmes, Polly Apfelbaum, Claes Oldenburg, Marylin Minters, Bjork and dancer/ choreographer, Pina Bausch.

What's your advice for someone that wants to make money with their art? (or a bit of advice for the reader)
My advice hmm… make time to work in the studio, no excuses just f*&Kin do it. Work in the studio, apply to everything, receive those rejection letters and emails and reapply again. You just fuckin do it. Regardless of whether or not you sell work. Repeat the cycle and eventually you will get there. That's what I say to myself. Eventually I will get there. Keep working in the studio, network, promote, apply, repeat. Make sure you have a 2nd job to help support what you are doing. That has always been extremely helpful.
LINKS:
https://www.facebook.com/maria.liebana.96
http://open.avenues.org/meet-maria-liebana?adidnum=fb
http://www.marialiebana.com
Share: