About Kristen North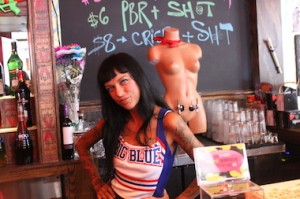 Kristen North, owner of Boobie Trap is making headlines and for good reason! North, previously a bartender for 12 years, at establishments like the Knitting Factory and Iggy's, and graduate of Northern Illinois University, now is the proud owner of her bar Boobie Trap. North co-owns the place along with her friend and fellow veteran drink slinger Paul King. She made the move from Chinatown to Bushwick as soon as she signed the lease a year ago. Her personality is splattered all over the walls: "This place is like the inside of my brain," she says of the decor.
"Bartenders bar. No mojitos, jerk. BBQ, beer, booze, and bitches 'til 4 am. Come drink like a fucking adult." That should give you sense of what to expect when you go to Boobie Trap. North and King wanted to open a spot where people in the industry could go after work for fun and food. True to its name, Boobie Trap is filled with PG nip slips: rubber boob blobs, a topless mannequin, '70s pinup girls, and there's even teets dangling from the ceiling.
So if you've always wanted to be surrounded by boobs, play hungry hungry hippos, and color in pin-up coloring books you've found the place of your dreams.
Check out the pictures we took at Boobie Trap!
Boobie Trap 308 Bleecker St, Brooklyn, New York 11237
Q&A:

When you were a kid, what did you want to be?
I wanted to always be a Fashion designer. I went to school for that and was able to get what I thought was my dream job at and was the house manager of a new exciting designer. It was a very hectic job and I worked insane hours, and not making much money for how long I worked, and here I am thinking "this is my dream job, and I hate it" I ended up quitting but glad that I was able to get the experience.

What sparked your initial interest in owning a bar?

I wanted to reap the benefits of my hard work, as oppose to doing all the extra hard work and some other schlub taking all the credit.

You've mentioned it pays to be a party girl, how would you say you benefited?
Being out and observing all the time gives you extra knowledge of knowing what people like by picking up on the little things. Also, it truly takes someone to play just as hard as they work to make it in this biz.  I'm pretty sure Paul and I have this down to a tee.

You've been bartending for 12 years, what is it like now being the owner of a bar?
It's awesome. I'm so proud to have a place to call my own. It's hard work and so much more goes into it than people can imagine. I'm lucky enough to have the most amazing rad partner, honestly couldn't have done it without that turdburglar.

Rubber boob blobs, a topless mannequin, '70s pinup girls, and a ceiling of boobs, its a real nippy place, what made you want to surround people with boobs?
It started because of the movie Goonies–one of my favorite movies, because they were always setting up Boobie Traps. It wasn't so intentional at first. In the bathroom the ceiling is actually bath mats. My grandma bought one for her boyfriend and I thought they were fun. I called around and turned out that they don't make the mats from the 90s anymore. I eventually found a lady that had 12 and bought them all. Just enough to do the bathroom but it worked out better, didn't want it to be SO over the top with the boobs, but honestly, most of the decor overall looks like my old apartment. My friends say that it feels like they are hanging out at my place.

What is the most rewarding aspect of owning our bar, has the process been difficult?
Took us a year to get it going! We signed the lease only to find out that we didn't know a lot as rookies. For example, the zoning was residential and we had to prove that our space had been in continuous commercial use every single year of the buildings existence in 1910.  If there is more than a year that it was not, then it would go back to residential.  The research was unspeakably tedious. But after all that, it was rewarding to come through the whole process to be able to just open the doors.

Keeping a stash of hair ties, the bell for the bathroom, the water cooler so you can help yourself and those awesome lighters, it sounds like BT is a bar patron's best friend, Is that the feeling you were hoping to create?
I just knew that those were the things that mattered to me. Like when you're  hot and getting the drunk sweats, you're just thinking, "Does anyone have a freakin hair tie!!!!"

You've gotten some backlash for your neon "f****off sign" how have you been handling that?
I get it, there are kids that pass by and because of the windows they can see it. We wanted to work with the board for a solution. The compromise is to keep it covered up until its unveiling at 10pm accompanied with a slam of our gong to announce the party time.

What made you want to put your bar in Bushwick?
We were looking in all areas really.  It was more about the space and less about where specifically.  Love me a corner spot!
What was the best advice you have received? (or a bit of advice for the reader)
It takes ignorance to jump and the strength to pull through.
LINKS:
https://www.facebook.com/kristen.north1
http://boobietrapbrooklyn.com/
https://www.facebook.com/boobietrapbk/
Share: