About Kirsten Smith & WhyDid.com
It all started with a pair of leggings and evolved into WhyDid's social commentary on love, life, fashion, and all things obnoxious.
By taking a realistic approach towards fashion, beauty, and relationships, WhyDid challenges women to think for themselves and ask "Why?"
With a combination of trend forecasting, personal styling, "How To's", and relationship advice,  WhyDid proves it's nice to be pretty, but also pretty nice to be smart.
Consider WhyDid as a big sister: always in your corner, but never afraid to give you a dose of "tough love" when needed.
With a background in merchandise buying, product development, and marketing, Kirsten Smith is not only well rounded, but also well versed in fashion from factory to storefront.  Her keen eye and ability to keep her finger on the pulse is what has always kept her ahead of the curve and made her an excellent buyer, stylist, and writer.  She is often sought out for her advice, opinions, and trend forecasting not only by friends, but colleagues and industry leaders. Kirsten has a beloved maltipoo named Smitty and she can't whistle.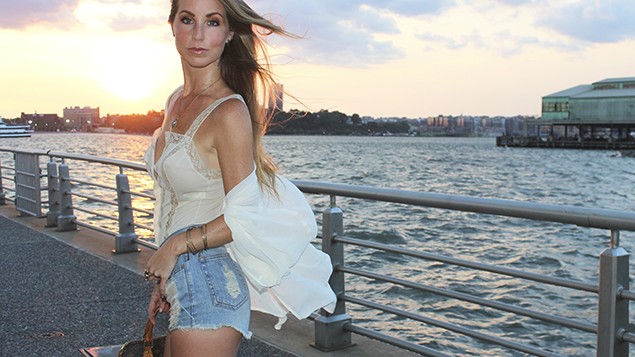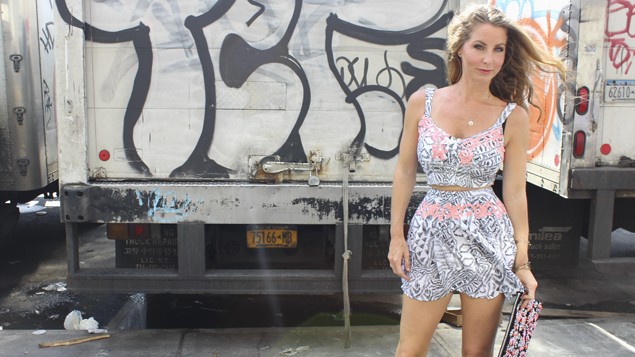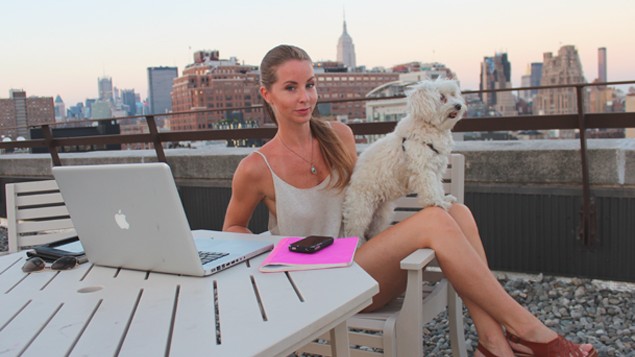 Kirsten Smith, Fashion Blogger on WhyDid.com
When you

were a kid, what did you want to be?
If I could have been a singing marine biologist ballerina, that's probably what I would have been.  Though, my parents thought I was going to be an architect because I had the strangest hobby of drawing floor plans.

Who was key to influencing you to get into Fashion?
I've always been drawn to it.  My parents enjoy telling the story of my first temper tantrum at the age of two over a pair of red patent leather Buster Brown Mary Janes.  I suppose it was always in the cards.  My grandma, Betty, loved dressing me up in her clothes.  I have this fantastic picture of me wearing her gold lamé jacket and oversized heels that she later had framed and hung in her house.

When you launched your fashion blog, what was it like to take that leap and start your own blog?
Honestly, I had no idea what I was doing when I started because it was before fashion blogging had become what it is today.  I started over six years ago after meeting a girl who had a blog and thought to myself, "I can do that," and so I did.

Most pivotal moment of your career so far?
The first was when I learned how to use analytics and realized, "Whoa!  People other than my parents are actually reading this!"  Now, it's always strange when people recognize me from my blog, which, of course, means I have to be on my best behavior in public.

What's most important to you in choosing an outfit for the day?
First and foremost is whether or not I feel comfortable in what I'm wearing.  Then I have to take things like the weather and the occasion into consideration.  Sometimes you have to think about who your "audience" is and whether what you are wearing will be appropriate.  Turns out, crop tops aren't as versatile as I'd like.

We know you consider WhyDid as a big sister, what's your favorite thing about having a blog?
The best moments for me are receiving emails from people who tell me that something I wrote really helped them or resonated with them.  I've actually made friends through some of these emails.  It's amazing to connect with people who you might not otherwise meet.

What does a typical day look like for you? Do you have "normal business hours"?
It's so easy to sleep in and get lazy when you have no one that you are directly accountable to.  However, I make a point to set an alarm, usually around 7:45 (I hit snooze a few times if we're being honest).  Then I rub my dog, Smitty's, tummy and do some morning reading/meditation.  After that I answer emails and take the little guy for a walk.  From that point on, the day can differ depending on meetings, phone calls, showroom visits, etc.  I really never stop working.  Social media is a huge part of blogging, so I am that annoying girl with her phone out taking pictures of food  and updating Instagram, Twitter, and Facebook.  I like to break up my days with exercise whether it be a run by the Hudson, yoga at Strala, or a Pilates class at Flex Studios.  It's the best way I know how to de-stress.

Where do you see your brand in 5,10 years?
My horoscope only forecasts the next year, so I'm not sure. (Kidding).  I have been dragging my feet on a book proposal, but that's really where I see myself headed.  It's hard to be certain what things will look like in five, let alone ten, years because I could have never imagined the evolution from where I started five years ago.

What do you feel is the most challenging thing about curating & creating fashion for a blog vs a magazine editor?
Interestingly enough, they are very similar roles although both have their specific challenges.  In regards to blogging, the challenge is working with fewer resources than what you might have at a magazine from actual personnel to fashion closets and the clout that comes with holding a weighty name.  It's a bit tougher to get big brands on board and so the upside is being able to introduce smaller, lesser known designers to readers.
How was the process of writing for your blog? What are some of the most challenging parts and most rewarding?
There is a lot of freedom in writing your own blog, which is also the challenge.  Because nothing is really off limits, it's a matter of thinking of who your readers are, what they want to know, and how to present sometimes mundane (but important) topics in fresh and fun ways.  In fashion, like everything else, it's all been done before, so it's always necessary to put your own stamp on it and make it yours.  You have to give people a reason to want to keep coming back to hear what you have to say.

What was the best advice you have received? (or a bit of advice for the reader)
The best advice I've received is from good ol' Dad.  He always tells me, "Just keep on going.  Don't look back and don't get caught in your own wake."  He's a wealth of wisdom and a great support.  I'm very blessed.
Share: