I met Marc when I, along with my family owned the art and music venue, STAGE 84 in Davie, FL. We were taken by his energy and character and of course his WORK! He was actually one of very few artists that we gave a solo show to. His distinctive style of paper cuts is not only impressive but also extensive, so it was an easy pick. But in addition, he is also a musician, so it really was much more than a traditional art show! Read more about Marc and his super fun paper art.
About Marc Paper Scissor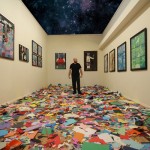 MarcPaperScissor is a Florida based artist, graphic designer, creative director, musician, and entrepreneur. He works in many mediums but is best known for his work with cut paper. He is always looking for new inspiration, exciting projects, and organizations for the MarcPaperScissor Studios to collaborate with.
Since the beginning of his creative journey 8 years ago, every single scrap of paper that is left over is saved and recycled for future work. Each paper shape is hand-cut individually with steady hands and a pair of ordinary scissors (no exacto knife). The archival cut paper is then carefully glued into place layer upon layer creating a world of vibrant colors, fascinating characters, concepts, and themes. There are subtle layers of dimension and intricacy that you can only see by standing in front of an original. He signs his name using the Chinese characters for MarcPaperScissor, honoring the craft of paper cutting.
Marc has exhibited in galleries in the US and Canada and his art has been used in a wide variety of formats: magazines, limited edition prints, show posters, apparel, album & book covers, murals, tattoos, interactive art installations, as well as animation.
Marc has just completed producing, designing, and directing the Spam All-Stars animated music video "Around the Track" with C3 Motion Graphics. He was featured on the front cover of The Spring 2011 Issue of WeMerge Arts Magazine. MarcpaperScissor interviews include write ups in The Sun Sentinel, New Times, and City Link. He has worked with Grooveshark, Delray Beach International Tennis Championships, Bear Creek Music & Arts Festival and continues to expand his clientele through MarcPaperScissor Studios.
Q&A:

When you were a kid, what did you want to be when you grew up?
I am still a kid. I never wanted to grow up, still don't, Peter Pan I think?

What message do you hope to get to people when they view your art?
Certain pieces, especially some of my earlier work, express messages about my view of the world in relation to politics, space, perception, mindfulness, music, sex and humanity. I hope people can relate to the universal concepts that exist within my work created over the years. If it evokes an emotion, a feeling, or thought then I know I have connected with the viewer and that makes me happy.

You are a based artist, graphic designer, creative director, musician, and entrepreneur, of all your professions which would you say fulfill you most?
Each fulfills me in different ways, during different times. I think I need them all to make me whole, and each plays a part in the bigger picture of who I am and who I am becoming. Mostly it keep things interesting and fresh.

Seeing as you've cut well over 20,00 pieces of paper, what is the best remedy for paper cuts?
I wouldn't know. I have never gotten a paper cut – ever.

You recently gave your first talk "A Million Paper Cuts: Lessons Learned From Being An Artist" at  Gainesville BarCamp. How was your experience of speaking at this type of event?
It was exciting to share my work and what I have learned over the years. I am rediscovering my passion for teaching, there are so many topics and themes I can speak about and would love to share based on my knowledge and what I have experienced. I am in the process of creating different segments that relate to what I have learned through my practices. Speaking at more events where I am able to travel and meet new people is definitely a goal in action.

What would you say has been one the most defining moments of your 10 year long artistic journey?
My defining moment is now. It is impossible for an artist or human being to put his or her journey into words, as it is a constant evolution. What defines it is the ability to see clearly. Experience, determination, and failure have brought me to where i am today.All the hardship and lessons I have learned have taught me how to be stronger and work smarter. Becoming organized has helped crystallize my path which still remains full of limitless possibilities, decisions and choices, but now the destination to my dreams and aspirations are more defined than ever.

What have been the some of the challenges of running your own business?
Well the first step was accepting and understanding that a creative artist can also function as a business person. I found it was painful but necessary for me to study the ins and outs of business in order to become an efficient entrepreneur. I built MarcPaperScissor Studios from the ground up and currently it is still maintained and operated by just me. The challenge has always been a balancing act of wearing many hats and not spreading myself too thin. Switching from right brain, creative chaos, head in the clouds, no boundaries, to a more linear, structured, business mode can be an extreme adjustment at times. I am still learning how to master it. Prioritizing, staying organized and learning how to delegate menial, but important tasks are also all challenges I personally face on a day to day basis. I have to say, answering these questions have been quite the challenge.

Where do you see yourself in 5, 10, 15 years?
I try to stay in the moment as best I can, but within the next 5 years I hope to establish more relationships with galleries and collectors to exhibit and sell my fine art. I would like to collaborate with brands and companies I believe in, continue to develop the MarcPaperScissor Brand, and license more of my work.
In 10 years, I hope to have already traveled the world, soaked up new cultures and given back to the planet in different ways. in 15 years I'll be 44 and probably have a mid life crisis, hopefully on a beach somewhere. In the years to come, I will continue learning new skills and growing, ultimately I want to stay happy and healthy, always improving myself and the people around me.

You mention that you believe "multiple levels of solid simplicity, layered within the right space can make a seamless and well-balanced whole" How do you carry that out in your artwork?
Whether i am working in cut paper, Photoshop, composing a song, cooking a meal, or creating a business I am working with layers that sit on top of one another. Hopefully on completion of whatever I maybe creating will look, sound, taste, or function like one seamless, well-balanced whole.
First, I deconstruct whatever it is that I am creating into its basic building blocks. Then I try to envision, sort, and arrange them within my mind. Finally, I place them in an order that seems to fit, just like a puzzle. The key to finding the right composition is patience.
How has your deep connection with spirituality affected your art?
I think tapping into ones soul and spirit is were greatness and great art lies. When I started creating what would be the large majority of my cut paper work, I was reading a lot of Buddhist text and was inspired by the intricate nature of the Buddhist mandala artists who would make their art from sand using primitive tools resulting in a tedious time consuming process. For them it was a sacred spiritual act of meditation testing their patience and concentration. I admire spirituality but don't necessarily connect it to any specific religion.

What was the best advice you have received? (or a bit of advice for the reader)
The best advice I have ever received is by Dr. Kwame Nkrumah which was handed down to me through one of my favorite musicians of all time, Fela Kuti. In his song, "Fear Not for Man," he states, "The secret of life is to have no fear, we all have to understand that."
LINKS:
http://www.marcpaperscissor.com/
http://marcpaperscissor.myshopify.com/
Share: