About Beerded Ladies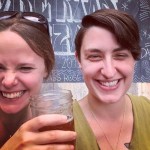 Beerded Ladies is a craft beer blog and events website run by Brooklyn-based writers Meredith Heil and Hayley Karl. The site features craft beer reviews, brewery tourism, beertography, bad jokes, dispatches from behind the bar, historical musings and beer-soaked recipes.
The ladies also host regular sudsy events around Brooklyn, including the bi-monthly "Sisters in Craft," an evening devoted to celebrating women in beer. Check out pictures from their Ladies Pint Night event!

What does a typical day/week look like for you in regards to the blog and the events that you host & promote?
Each day is wildly different for both of us, but we usually try to keep up with local industry events and the latest beer news to stay on top of things. We host at least two events each month: a beer-themed trivia night at Glorietta Baldy in Bed-Stuy, and a regular party at Prospect Heights' Covenhoven, which can be anything from basic tap takeovers and brewery releases to more specific shindigs like Sisters in Craft, our bi-monthly ladies pint night. We usually work on coordinating and promoting events during the day — developing concepts, getting sponsors on board, making sure kegs are ordered, writing up press releases, spreading the word on social media and designing flyers which we then distribute around town. As far as blogging goes, actual writing has taken a bit of a backseat to our events as of late, but we try to contribute new content when we can. We both maintain steady day jobs and freelance work outside of Beerded Ladies (I'm a writer and public media producer & Hayley's a filmmaker and photographer), so it gets a bit hectic trying to juggle all those hats.

What's your favorite thing about having a beer blog and supporting female-centric beer culture?
When we first started Beerded Ladies in January, 2013, we were driven by a love of great beer and a desire to showcase our writing. Now that we've ramped up our events program, we're honored to have the opportunity to create more space for women in this male-dominated industry. Sisters in Craft is kind of a "meet the brewer" event for folks of all genders to learn more about craft beer and recognize all the rad girls that are working to make this industry awesome. As feminists, we think it's important to highlight women's voices in any community where men seem to be the loudest, and the craft beer scene is a great place for this kind of work. A lot of beer events, especially the big festivals, are pretty bro-centric, so our events are meant to welcome folks who might not fit into that mold into the craft beer world, since craft beer is, at its root, all about community, experimentation, creativity and thinking outside the box.

What made you ladies come together to work on this project? What was it like to take that leap and start your own blog?
Hayley and I met working at a craft beer bar in Carroll Gardens in the summer of 2012, and I had the idea to start a blog shortly thereafter. Both of us had been really into beer for years, and this seemed like a great opportunity to flex our writing muscles while also becoming more entrenched in the local craft beer scene, which is a really fun group of people. Putting on beer events began as a way to promote our blog, but it quickly took on a life of its own and now we focus a bit more on that side of things. Taking the leap to start the blog wasn't too difficult — we both have a background in writing and we were able to throw together a bunch of material, including some from my good friend Khara, fairly easily. The hardest part now is keeping up with all the different aspects of the project as our brand continues to grow. I feel guilty every time I have to miss a beer event because of work or freelance obligations, but such is life. There's only so much drinking you can do every week!

How was the process of writing for your blog? What are some of the most challenging parts and most rewarding?
One of the most rewarding parts of running this website has been getting to know all the awesome folks in the New York craft beer industry. It's a warm and friendly community, and it's nice to be surrounded by people who also love to geek out about beer. Forming relationships with local breweries is also a good perk, especially when we can call attention to some of our favorite brewers. I've also gotten a bunch of freelance writing assignments through my work with Beerded Ladies, which is definitely rewarding. Seeing our stickers in bars around the city also warms my heart.

The oldest known record of beer brewing comes from Ancient Egypt, where beer was made and sold almost entirely by women. How do you feel about beer in current times traditionally only being known as an interest to men?
Though its origin is somewhat debated, brewing actually pre-dates Ancient Egypt, going back as far as man's shift from a predominantly nomadic to an agrarian lifestyle. Sumer (modern day Iraq), which some historians believe pre-dated Egypt, was crazy about beer. They even had a goddess, Ninkasi, devoted entirely to beer. Following brewing tradition through the middle ages, you see the emergence of Ale Wives, women responsible for both brewing the town's beer and running the local tavern. In terms of the modern economy, however, big beer has become big business and big business is, of course, dominated by men. That's not to say that women haven't been doing amazing things in the industry for decades — people like New Belgium's Kim Jordan and Carol Stoudt of Stoudt's Brewery, to name a few — but the reality is that men have been both the primary purveyor and the targeted consumer for most of the past two centuries in America, especially when it comes to the breweries with the largest marketing budgets, broadest reach and most power. That this big beer-fueled monoculture has made its way into craft beer, however, is ironic, as American craft's 10% market share has long prided itself on creativity, experimentation and independent spirit.

How do you think the beer industry will change with more lady brewers?
As more women enter the industry, I think the contradiction I mentioned above will be called into question. We're already seeing a rise in promotion directed specifically towards women, whether its through trade organizations like the Pink Boots Society, ladies only homebrew clubs, national chapters of Girls' Pint Out or websites like ours. Seeing more women excel in historically male-dominated professions undoubtedly paves the way for greater gender equality, especially when it comes to inspiring younger folks and challenging misconceptions about what a woman is capable of doing. Seeing 5 foot tall Heather McReynolds, brewing manager at Sixpoint, drive a forklift around Red Hook is argument enough that women can do just about anything.

You've had many successful beer events, including Ladies Pint Night, Beer Geek Trivia, why are you wanting to shine a light on women who love beer? Do you find many people surprised to see so many ladies appreciating beer?
It's not so much that folks are surprised to see so many women at our events, but I do think people are excited to see a different kind of crowd than they might find at a more mainstream beer festival or tasting. The women we work with are always stoked to have a night to celebrate their work, of course, but all our parties are open to all, regardless of gender, so we tend to get a good mix. Though, this might be because Hayley and I know a ton of awesome people that would never balk at a lady beer enthusiast or because the New York City community is particularly open minded and accepting.

What would you like to see to encourage women to participate in beer culture and in the industry as a whole?
When it comes to brewing, I'm of the opinion that increased diversity will always benefit the industry. Different types of brewers with different backgrounds can result in a broader range of available styles and innovative recipes that might attract someone, regardless of gender, who might not have liked beer before. I'm happy to see the days of hop bomb domination slowly receding, as the recent influx of well crafted sours, Belgians and stouts bring in a brand new set of consumers, many of whom seem to be women.

For people that are curious about craft beer, what is your favorite beers to introduce new craft beer drinkers to?
When introducing someone to craft beer, I usually try to get a sense of where the person is coming from, what flavors they enjoy and what beverages they usually like to drink. If the person says white wine, I tend to push them toward a fruit-forward sour or Belgian like Grimm Artisanal Ale's Still Life, a farmhouse ale brewed with apples. If they say they like richer, dark chocolate or coffee flavors, I'll suggest something like Carton's Carton of Milk Stout or Sixpoint's Gorilla Coffee. Allagash makes some really nice introductory beers, too, like their Allagash White, a lemony Belgian wit that's a great choice for a Blue Moon drinker.
So we must ask, what are some of your favorite beers/beer types?
Hayley and I both love Founder's Breakfast Stout — it has coffee, oatmeal and chocolate notes and is a fantastic cold weather option. We also both like fresh, hoppy IPAs and session beers like Other Half's Hop Showers and Carton's Boat Beer. I tend to gravitate more towards sours and funky Belgians, while Hayley prefers bolder stouts and porters.

If you could work in any brewery, which one would it be and why?
This is a tough question! I definitely can't pick just one, since there are so many amazing, forward-thinking breweries out there right now. I've always admired both New Belgium and Dogfish Head's commitment to pushing the envelope with offbeat, experimental styles as well as their progressive business models and emphasis on collaboration. Both have been instrumental in spurring the modern craft beer revolution. Allagash also seems like an inspirational place to work, as do smaller outfits like Epic in Salt Lake City and Peekskill in Upstate, New York, which are both putting out some of the tastiest, most exciting beers in their respective regions.
LINKS:
http://beerdedladies.com/
https://twitter.com/BeerdedLadies
https://www.facebook.com/BeerdedLadies
Share: