We are proud to support the students and businesses that will be participating at the STEM-tastic Saturday!

Sat 14 May 2016 11:00 am – 5:00 pm
Hommocks Middle School, Hommocks Road, Larchmont, NY
This year, STEM-tastic is all about STEAM!
From our Keynote Speaker Bob Partington to Bubble Artist Jeff Boyer, explore the conjunction of art and science at this festival for all ages. Experiences, performances, demos, vendors, "make & take activities" and more. Details below!
Tickets Sales Are Now Open – Buy Online & Save!
Online prices: $12 for adults; $7 for students.
Prices at the door: $15 for adults; $10 for students.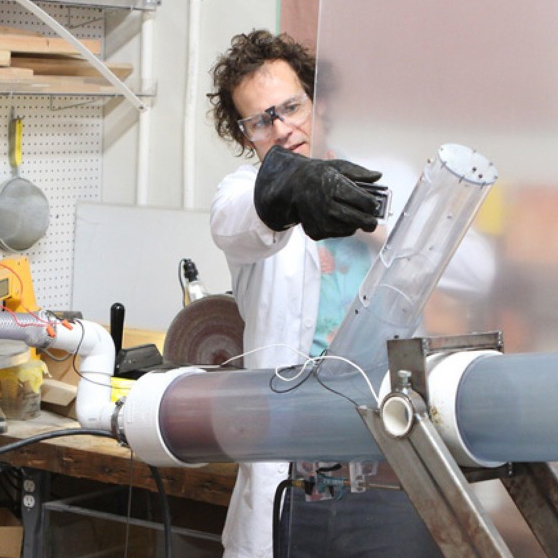 Bob Partington: Rules of Invention

Keynote Speech At STEM-tastic Saturday
May 14, 2016 @ Noon
Hommocks Auditorium

The Keynote is free for all ticketed
STEM-tastic Saturday attendees
Bob Partington is an artist, engineer, and inventor like no other!  His inventions include a secret graffiti briefcase, a 300-pound garlic crusher, a paper airplane gattling gun, a pizza guillotine, and the World's Slowest Rube Goldberg. (See video below) 
He hosted his own television show, the History Channel's Thing-a-ma-Bob, and is being featured on TBS's new series America's Greatest Makers. (See video at right)
His work is on view in OK GO's deliriously mind-bending music video The Writing's on the Wall, and he was the recipient of the Creativity Award from Odyssey of the Mind for combining art, science, technology, math and engineering in his unique inventions.
Bob's most recent invention is featured in Volvo's "Highway Robbery" ad for their new electric car.  Watch a behind the scenes video to see how he created a device to steal energy from every car on the road to power the Volvo XC90 T8 Twin Engine.  Awesome!
STEM-ALLIANCE
Mission:
To organize STEM education and enrichment initiatives in order to inspire a community where all are empowered to embrace STEM passions to solve problems.
Vision:
To serve as the network connecting our community to STEM as a means of solving problems and fostering innovation.
Share: