About Chris "Smitty" Smith: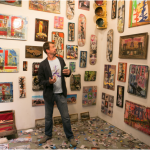 Chris "Smitty" Smith also known by his artist name subtexture. We met randomly met Chris on the Rockaway Beach Bus trip and what a pleasant surprise it was. Smitty studied at Pratt Institute in the mid 80's and has lived in Williamsburg/Greenpoint since 1995.
He hosts art exhibitions and events, including guerrilla street performances and creates public art. In order to put on these shows, as former owner of Brooklyn based art collective, 'GSpot', his team designed a line of products inspired by classic punk rock albums and by the signs and textures of their neighborhood of Greenpoint.
The main roster of Gspot artists included: autovac, tfuk, satok and subtexture.
Q&A:

When you were a kid, what did you want to be?
(See below for answer)

Who or what was key to influencing you to pursue art? and why?
I've liked to draw for as long as I can remember. My grandfather was an artist, although I didn't know him well, I do remember one time he gave me a really nice technical pencil for my birthday. I used to copy comic strips and always loved doing creative school projects like book reports and science projects.
On Saturday mornings there used be a television show called drawing with Capt. Bob, but Saturday mornings was also hockey practice. I loved playing hockey, I learned to skate when I was 7 yrs old. So I was conflicted but told my dad that I wanted to stay home and draw and he was cool with it. My parents' have always been supportive of what I do, not that they really understand me!

How would you say moving from Massachusetts to Brooklyn, New York influenced your art?
How? Well it completely changed my life! I was 17 and from a small suburban town in Massachusetts. I moved to Brooklyn in '84 to go Pratt and then next thing I know, I'm living in a 17 story apartment building surrounded by 3,000 of my peers in the best city in the world. It was the 80's, the art and music scenes were amazing and we had free admission to all the museums. I would walk around the city exploring, eating the place up like candy.

What's the most difficult part about being a store owner and artist?
Well I will say that I'm no store owner, I'd call myself an artist and an entrepreneur. We had a pop-up gallery space for a few years and it was fun to do events and we developed a nice product line but I don't want to sit around waiting for customers to come in and buy my stuff.

What made you decide to open up your store the G-Spot?
I happened to be walking down Green St. in Greenpoint and saw a For Rent sign. The place was small but cheap and I talked to a couple friends about it, and my buddy Francis was totally into having a space to work and host shows. He came up the name, riffing on us being a couple Guys on Green St. in Greenpoint. I designed the logo which is inspired by the G Train and is literally a G pointing to a "spot". Our other symbol is a green pointing hand or a "green point" it turns out that is also the letter "G" in American Sign Language.

What does a typical day look like for you? Do you have normal business hours?
I don't really have a typical day, I haven't had a full time job in years. so I'm always juggling a number of projects both professionally and artistically. I have my own design business and I also do freelance art direction for ad agencies in the city.
Today I got up at 8, got a coffee at Champion coffee, which is my local spot, then walked my dog Otis down by the Newtown Creek. Then I spent the day revamping a marketing piece for a diabetes drug and then framed a couple prints and dropped them off at a tattoo parlor/art gallery that is having a Halloween Group Show. Last night I hosted a figure drawing session at my studio, I can't really do 'typical', that really bores me, so I'm always up to something.

How has your art changed over time?
My latest work is more layered and complex, I've been working on a series called "streetshadows" which is based on photos I take of the shadows cast by street signs and wrought iron fences on the streets of Greenpoint. The first pieces I did were basic graphic shapes painted on found objects, now I am doing multi-layered pieces involving image transfer, stencil and paint on found objects and old signs. I've also done large installations and murals of this work at Brooklyn Night Bazaar and the Arts at Renaissance space in the old Greenpoint Hospital.

We recently checked out the Greenpoint Gallery Crawl and saw some of your art at Coco 66. I also saw that series many years ago at an art show in a DUMBO loft. Is there an artwork here you are most proud of? Why?
There's a lot of things that I love about that series which I call "Roadwork Ahead". These were the first works that I ever sold and I was proud of the process I had working with the found signs. Singe they are made from old road signs they work really well in dark bars, so I've been asked to hang them a lot.
And that's great that you made it out for the Greenpoint Gallery Crawl, my friends Scott Chasse and Lia Post run that, with basically no budget, the art scene here is small but it's a great community and a lot of us do projects together, the Greenpoint Gallery Crawl happens a couple times a year, but we just had Greenpoint Open Studios which got resurrected NY Jen Galatioto this year after being dormant for a while. We had over 200 artists take part and the response was awesome. I lost track of how many people came through my studio that weekend, a couple hundred?

How did you start hosting slot car racing parties?
In 1999 a group of us had a space called "the Method Lab" we had 1200 sq feet and our front door looked out onto McCarren Park, it was a 5 person collective and we were all designers, photographers and artists. We put on art shows like "Mummies of the Insane" and "Robot Invasion" which was a huge collection of vintage Japanese robot toy. We would design posters and t-shirts for the shows.
One day I run into this guy we knew as Bicycle Rob, I had met him years ago at the Cooler on 14th st where he had set up his slot car tracks with video cameras showing the races around the club on tvs and projected on the walls. We invited him to to bring the tracks to our space, for the first show we had 4 different tracks and a hot rod themed group art show, we called the night "Slotcar Fury' and it took off. We got a bunch of press for that, and almost did a huge project with Nike, and did a number of these shows at fashion events, art galleries and art fairs. People really loved the interactivity of it. and it's analog so can go too fast and your car will go flying across the room, it's a lot different experience than playing a video game. plus adults love to be able to act like children, even the ones who walk by scowling eventually come back and race.
Artists have always been transformative to their surroundings, what's it like to live in Greenpoint and see the changes?
It's tough to see the place change, I've been in the area for almost 20 years, so I've seen a lot of change. Greenpoint was quiet for a long time, but now we're the hippest place to hang out, so it's losing that small town feel. but hey, there were people living here before I showed up and they probably weren't artists playing with toy cars, they were working class people with families, so who am I to say? But it does seem that the people who are moving in are lacking in something, at least you could get annoyed with the hipsters in the 90's they were doing something (however badly) but a lot of these people just seem boring, blowing all their cash on eating where ever is new and trendy. It's sad to see local businesses close because the landlord got greedy. We lost a great stationery store last year, now there's no place to buy basic stuff like pens and paper.

What's your advice for someone that wants to make money with their art? (or a bit of advice for the reader)
Hahaha well I wouldn't say that I have it figured out. You got to be hustlin' hustlin' all the time. Doing your own thing is not easy. You always go to be working, but if you love what you do, then it's not like WORK it's who you are and you gotta be true to that. Don't be afraid to change it up. I've quit jobs so I can do what I want to be doing, you got to be open to things, keep your ears and eyes open, if there's one thing that New York has taught me "If you can make it here' you can make it anywhere" hahaha it's no joke! This is a tough fucking town but it's great! I've been here half my life, I don't know if I could live anywhere else.
LINKS:
http://subtexture.net
http://gspotbrooklyn.com
https://www.facebook.com/GSpotBrooklyn
https://www.facebook.com/pages/subtexture
[/blox_text][/blox_column][/blox_row]
Share: